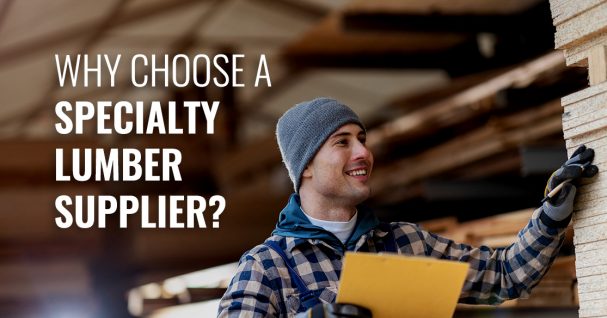 Discerning woodworkers have long known the truth about finding the quality, selection and expertise to make their projects a success, and it can be found in where they choose to source their materials. Today's world of shopping offers a myriad of stores and retail options to shoppers.  Whether you're a professional contractor or getting started on your first DIY woodworking project, you'll need to decide if you'll buy your lumber from a big box store or specialty lumber supplier.  While there's no universal answer for every person and project, the truth is that there are unique benefits to shopping at a local specialty lumber supplier like Forest Plywood.  
Greater Depth of Knowledge 
Big box stores stock everything from lumber to lighting, and employees must have some basic knowledge about every product on the shelves. Since employees have to know a little bit about everything, it may be hard to find someone who has comprehensive knowledge about lumber and its applications. A specialty lumber supplier, on the other hand, specializes in wood and woodworking projects. Every employee has deep experience and are often tradespeople who can share their insights and  knowledge when it comes to lumber and help you identify the best material for your next project.  
Higher Quality Lumber 
A specialty lumber supplier's main priority is pairing customers with the best wood for their products. At Forest Plywood, we focus on offering premium quality products that exceed your expectations. As lumber specialists, we take better care of lumber, ensuring it is properly stored and protected from environmental conditions that could damage it, in addition to only sourcing the best quality lumber products.  With this level of care and attention, Forest Plywood customers can expect to purchase high-quality products every time.
Access To Specialty Products 
Big box stores tend to sell the basics for any home improvement project, but it can be difficult to find something specific or unusual. Local lumber suppliers only offer lumber, which allows them to diversify their products and offer unconventional or specialty species that would be impossible to purchase elsewhere. For example, Forest Plywood offers unique options like Italian Bending Poplar, oversized Euro Birch, and Bendy Meranti.   
Custom Cuts 
Big box stores will cross-cut your wood into certain lengths or widths, but can't do much customization. As a local lumber supplier with an in-house custom mill, Forest Plywood solves that problem. With quick turnaround and delivery, you can specialize your order to suit whatever project you're working on.   
Better Customer Service 
Employees at a lumber supplier are there for a reason – they're passionate and knowledgeable about lumber! When you come to Forest Plywood, you can get in-depth information about your project that you wouldn't get from a big box store. Employees will walk you through the pros and cons of different wood choices to help you find the product that will perfectly fit your needs.
Supporting Local Business 
Choosing to shop local can have a big impact on your community. Your choice in lumber supplier can strengthen your local economy, create jobs in your city, and help other woodworkers continue to access specialty products they won't find anywhere else.  
We believe that our loyal customers can sum up these qualities best,  as seen in this example from a recent customer experience that defines the difference you will find here at your local specialty lumber store:
"As a business owner, I rely on accurate information timely order quotes, and fulfillment on delivery. Procurement is a very tedious process, and finding a good supplier who is honest and fair with pricing, while also being reliable with delivery of goods or materials, is not as easy to find as one might think. This place nails it on the customer service side, while providing excellent products at a fair price. There is a wide selection of lumber and wood products, from paneling to planks, and there is also and International trade zone on site, for International Commerce or exporting out of the country."
– Andres Z
If you're looking for a local lumber supplier near you, contact Forest Plywood. The team's experience and dedication to superior customer service, combined with our large product offering and custom milling capabilities, makes it easy to find the perfect solution for your project.