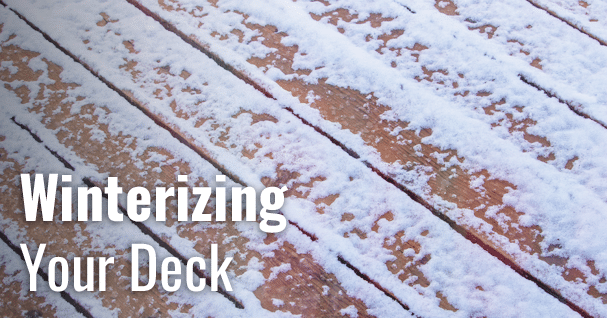 There's a slight chill in the air. The days are getting shorter. Pumpkin spice has taken over the grocery shelves. It can only mean one thing: winter is coming. And before the first snow arrives, you'll want to make plans to winterize your deck. Fall is a great time to prepare your deck for the cold, damp months ahead. In this blog, we've pulled together some tips for winterizing your deck to keep it looking great for years to come.
When To Winterize Your Deck
You don't want to wait for the snow to be blowing to winterize your deck. In fact, fall is actually the best time to prepare your deck for the chilly months ahead. But don't worry – you can still continue to use your deck after you've winterized it! In fact, having a clean, tidy deck might be a great place to host Thanksgiving dinner.
Staining Your Deck
Did you know that fall is actually the best time of year to stain your deck? The dry, relatively cool weather that fall provides creates the perfect weather conditions for staining your deck – and as a bonus, it's a gorgeous time of year to be working outside! Plus, by aligning your deck winterizing and staining, you can provide the best possible protection for your deck throughout winter.
How To Winterize Your Deck
Winterizing your deck doesn't have to be hard – all it involves is cleaning your deck off from summer and fall festivities so it's prepared for the hard winter months ahead. By following these easy steps, you can feel confident that your deck is properly winterized.
Clear it off

: By the end of fall, your deck has probably accumulated a fair share of leaves, twigs, and other clutter – including planters, mulch, and furniture. Now is the time to clear everything off your deck to prevent damage to your wood or deck furniture. 

Get sudsy

: While you might think you've cleared all the dirt leaves off your deck with a good sweep, you're probably missing quite a bit of small-scale debris. Give your deck a good scrub as part of your winterizing process.

Protect it

: Make sure your deck is completely dry – this is why fall is a great time to winterize your deck! – and then apply a water repellent finish to your deck. This will protect your deck against water damage during the damp winter months ahead.

Find storage

: While a January cookout sounds like a blast, winter is not kind to outdoor grills, appliances, and furniture. Now is the time to find storage for your deck furniture – and if you can't find storage space for your grill, invest in a good grill cover.

Keep up with snow

: Winterizing is technically a season-long process! Make sure to clear off snow as it falls, and don't let it accumulate too much on your deck – this can cause discoloration and damage to the wood. 
And it's that easy! In the space of an afternoon, you can have your deck winterized and ready for the chilly months ahead.
Thinking Ahead To Summer
After all this talk of snow and ice, you're probably already ready for some sunshine and long summer evenings on the deck! At Forest Plywood, we can help you select the right materials for building your dream deck. From redwood to cedar, we've got an extensive selection of deck lumber to fit every project and budget. Contact our experienced team today to learn more about options for your deck project.