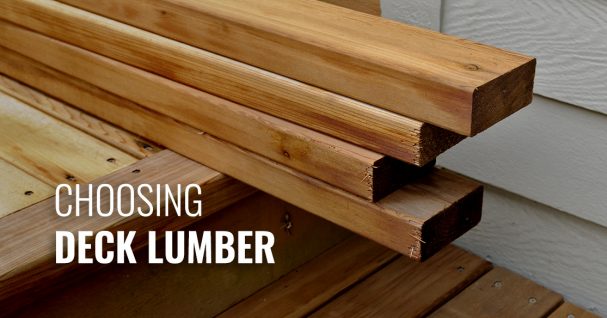 A deck is a major investment, and choosing the right decking material is one of the most important decisions you'll make. Natural woods, pressure-treated lumber, composite lumber, and synthetic lumber all have their advantages — and the right material for your project depends on your tastes, budget, and how much time you're willing to invest in maintenance.
Our team has put together a guide to popular types of deck lumber, and the pros and cons of each.
Choosing Natural Wood For Your Deck
Natural woods are a classic choice for decking materials and look great when they're newly installed. Premium woods like cedar and redwood are durable, lasting an average of 20 years. However, these woods will turn gray if they are not maintained yearly with a sealer or finish, and the softer natural woods are prone to gauges and scratching.
Cypress is a stable natural softwood that contains an oil called Cypressene that naturally repels insects and resists decay, rot, and fungus. It is softer and less expensive than redwood.
Redwood is a softwood that is pricier than cypress or cedar but very stable, smooth and straight, with a characteristic reddish hue. Redwood is available in "clear" grades that are free from knots. In addition to being fire-resistant, its heartwood (the darker core of the tree) naturally resists insects and weathering. Look for redwood lumber labeled "heartwood common" versus Construction Common when selecting redwood lumber that will stand the test of time.
Cedar is a durable softwood with a lighter hue that's also naturally resistant to rot, decay, and termite attacks. It's slightly less expensive than redwood and can be sanded and stained for an attractive finish. Because redwood, cypress, and cedar have Forest Stewardship Council (FSC) certified options, they are a good choice for homeowners looking for sustainably-sourced materials.
When buying cedar or redwood decking, select planks cut from heartwood rather than the lighter sapwood, which lacks the natural oils that resist insects and decay.
Tropical hardwoods are known for their rich and beautiful colors, and naturally repel fire, decay, and wood-boring insects. Popular tropical hardwood choices include balau, ironwood, Tigerwood, and ipe.
However, this type of wood can be expensive, more difficult to source, and prone to maring. Because they may require special tools for installation, exotic hardwoods are generally not a safe bet for DIY projects.
For homeowners looking for eco-friendly options when shopping for tropical hardwoods, look to a reputable specialty lumber supplier that carries products with the ForestStewardship Council (FSC) seal. 
Read more: Hardwood Lumber Buying Guide 
Pressure-treated lumber is a natural wood that has been treated with chemicals to repel insects and water. It is the most affordable kind of deck lumber and is the logical choice for the posts, joists and beams that form the structural part of your decks. It can support more weight and span longer distances than other popular choices for deck lumber. Southern pine or fir is the least expensive, and most common, type of decking. 
Pressure-treated lumber is commonly rated for above-ground use (.15 or .25) for decking and fencing, ground-contact use (.40) for posts, beams and joists, and below-grade(.60) for support posts buried below grade.
Unlike redwood and cedar, avoid treated lumber that has a lot of heartwood when selecting pressure-treated lumber. This is because this denser wood from the center of the tree soaks up pressure treatment less readily — especially with the thicker 4×4 and 6×6 lumber used for posts.
The most important thing to keep in mind when it comes to pressure-treated lumber is that it requires yearly washing, sanding, and sealing. Although it will last up to 30 years if maintained properly, failure to wash and reseal your deck can lead to cracks, splinters, and warping.
Choosing Composite or Synthetic Wood For Your Deck
Natural wood alternatives such as composite deck boards and synthetic lumber are another option to consider. While these materials are more expensive than pressure-treated lumber, they are lower maintenance than other deck materials, and they may come with a warranty.
Composite deck boards:
Composite boards are made from recycled materials such as wood waste and plastic. This splinter-free material does not need to be painted and resists rot and insect attacks. Because it does contain wood pulp, composite decking looks more natural than 100% synthetic PVC lumber.
On the flip side, some composite deck materials can be prone to mildew, may become slippery, and may require special fasteners for installation. Because it can become dirty and stained, expect to give your deck a good rinsing with a hose periodically.
When shopping for composite deck boards, note that boards that contain polypropylene are stronger. While low-end composites are priced about 30 percent higher than pressure-treated pine, this cost can be recouped within 5 years because no yearly staining and re-sealing is needed.
Synthetic lumber:
Synthetic lumber is fabricated from vinyl, polystyrene, or PVC. Like composite deck boards, it requires no staining or sealing and is low-maintenance. Look for slip-resistant options, and be aware that the material will fade slightly in the first few months of use.
The "plastic" feel and look of this material may be a turn-off for some homeowners who value the look and color variations of natural wood. Like composite deck boards, special tools are required for installation, so be sure to hire an experienced contractor.
Whether you opt for natural wood or a natural wood alternative, with the right care and maintenance, your deck will last for many years to come.
Still have questions? Feel free to contact our experienced team at 800.936.7378 to explore hardwood and softwood options for your project.