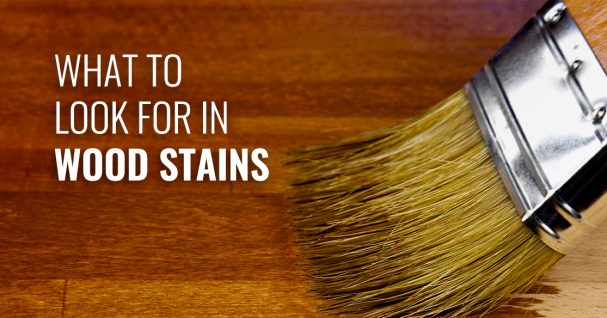 A wood stain is a quick, affordable way to dramatically change the appearance of wood. The right stain can emphasize a beautiful wood grain, add patina and luster to new wood, and help solve problems such as bleaching.
Yet with all the choices on the market, choosing the right stain for your project can seem daunting. The team at Forest Plywood has put together a guide to the types of wood stains available, which stains are best for particular color objectives, and the products we recommend.
Does The Wood I'm Working Need A Stain?
First and foremost, it's important to decide if your project would be improved with a wood stain. Rare woods, aged pine, rosewood, mahogany, and maple have an attractive natural color and often do not need a stain. Light colored wood like pine, beech, birch, and ash are usually stained.
If unsure if a stain is needed, we recommend applying a clear finish to a small patch on an area that won't be visible. The finish will darken the wood a little and bring out the grain. If you're shooting for deeper, more vibrant color, you'll want to explore oil-based, water-based, and gel-based stains.
Should I Use an Oil-based Stain, Water-based Stain, or Gel-based Stain?
Oil-based Wood Stains
Oil-based stains are easy to use and work well for furniture and large wood surfaces. Although they're slow to dry, they penetrate deeper into the wood. Because these stains have excellent adhesion, they resist peeling and are designed last for many years to come.
This type of stain can be used for both indoor and outdoor projects. Unless you're working with redwood, cedar, or other rot-resistant wood, it's the go-to stain for exterior projects because of its water-repellent properties.
Oil-based stain contains VOCs (volatile organic compounds) that can cause breathing problems, headaches, and skin/eye irritation. In addition to wearing a mask and using proper ventilation, the stain must be removed from brushes with a paint stripper or other chemical agent.
Water-based Wood Stains
Best applied to raw wood, water-based stains have a faster drying time and are more environmentally friendly. Because they use water as a binder, clean-up is easier than with oil-based stains. Not only are water-based stains non-flammable, they are mold and mildew resistant. Because they give off fewer VOCs and have less odor, this type of stain is ideal for indoor projects.
Water-based stains have a tendency to raise the grain of wood, which may cause the wood to feel rough to the touch. This type of stain doesn't penetrate the wood as deeply as oil-based stain and will have softer colors (although the color can be darkened with more coats).
Gel-based Stains
Gel-based stains can provide a happy medium, and are commonly used for furniture and pine flooring. Because of its thicker consistency, this type of stain is ideal for smoothing out crevices to achieve an even surface, and is ideal for wood prone to blotching. In addition to providing a consistent texture, it adheres well to wood that hasn't been completely sanded down.
While gel-based stains require less prep time, they are thicker and require mineral spirits for clean-up.
Popular Stains For Woodworking Projects
While there are many quality stains on the market, here are a few of our favorites:
Best Stains For Hard-to-dye Woods
For Hard-to-dye woods like pine, General Finishes Oil Based Gel Stain is a top choice. It's known to reduce spillage and provide an even coat, and is ideal for wood like pine that absorbs a lot of stain. It can be applied in a single thin coat, or with multiple thin coats for added richness.
For indoor projects, General Finishes Water-Based Stain is also a great option that is thick and easy to apply. With its easy clean-up, this stain is perfect for DIY woodworkers.
Best Oil-based Stain With Minimal Odor
Although Varathane Fast Dry Interior Wood Stain is an oil-based wood stain, it gives off minimal odor and dries quickly, making it suitable for staining indoor doors, cabinets, trim and paneling. Several coats are required to achieve an even coat.
Best All-Around Stain For Furniture And Flooring
Favored by many professional woodworkers, Minwax Penetrating Wood Finish penetrates deep into wood, bringing out the grain, and is meant to be used with a sealer. Just one to two coats are required to achieve uniform coloring. Although it is not suitable for covering existing finishes, it's a perfect choice for raw wood projects because of its excellent penetration and minimal sanding required.
Best Stain For Wood Floors And Indoor Furniture
Rust-Oleum Ultimate Stain is a medium-bodied stain intended for single-coat applications that works well for wood floors and indoor furniture. In addition to a fast drying time, the coating will help seal the wood against moisture damage and fill small cracks when used liberally. It can be applied with a standard brush and is suitable for interior projects.
Best Stain For Heavy-traffic Indoor And Multiple Surfaces
Minwax Gel Stain is not just for wood, but also works well for fiberglass, metals and more. This versatile stain is suitable for covering existing stains. Because it stands up well to traffic, it's often used for banisters, doors, and trim.
Best Environmentally-friendly One-Coat Stain
Recommended for fine woods, SamaN Interior Water Based Stain gives solid coverage with just one coat – and no conditioner is required. This versatile all-purpose indoor stain comes in 42 colors and works well on interior wood, moldings, doors, cabinets, and furniture. In addition to being odorless, it's safe for the earth, people, and pets.
Keep in mind that different woods require different stains: When in doubt, be sure to do your research about the characteristics of the wood you are working with before choosing a stain.
If you're shopping for hardwood or softwood lumber to kick off your project, our experienced team is here to help. Contact us today or call 800.936.7378 to speak with one of our team members.