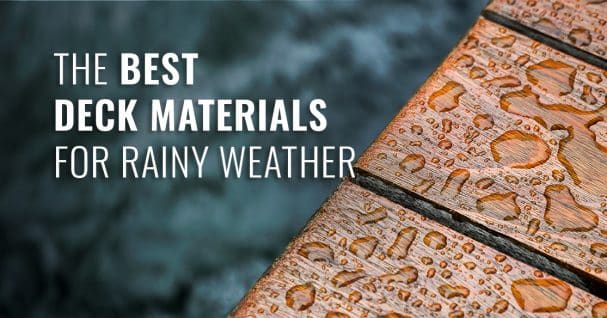 Enjoying the nice weather from your home's deck is such a simple pleasure that can turn sour if it's not built to withstand the elements. No one wants a chair — or worse, their foot — to fall through water-rotted wood and we can bet you also don't want to rebuild your deck every five or ten years. 
So how do you build a deck to last, especially when you live in a rainy climate like the Pacific Northwest or southern and Gulf states? It's all in the materials you use.
What to Consider Before Building Your Deck
Before you pick out your decking materials, there are a few things to consider. Horizontal surfaces are primed for water damage because drainage is limited, as opposed to a vertical or slanted surface. But a vertical or unlevel deck is not likely to be in your plans. 
So your materials need to help prevent damage from water or cracking and warping from the sun. But every building material requires different maintenance. Some materials need to be resealed annually while others come sealed with a decades-long warranty. By nature, some materials will require more cleaning than others, like power washing, to slough off any mildew, grime, or critters that outdoor structures attract. But other materials might just need a gentle mop or hose to stay clean. Ahead of building, ask yourself what level of maintenance you want to put into your deck. 
Cedar, Hardwoods, or Composites
While the above reads like there is an obvious winner — the easy-to-clean, warrantied material — annual maintenance might be worth it based on your visual preference. For instance, cedar is one of the best outdoor materials. Don't let the classification of softwood fool you. Water rot, decay, and even insects are no match for cedar. The natural oils in the wood also help prevent warping and cracking brought on by weather damage, which is why, unlike other natural woods, cedar can be left untreated so it's natural qualities aren't sealed away.
Other natural woods, like exotic or tropical-grown hardwoods can be used as they are more dense than cedar, so their lifespan can be longer if properly maintained, which may or may not include annual sealing, depending on your aesthetic preference. Because woods like Ipe, Massarunduba, Tigerwood, and Batu are grown in wet, tropical climates, they hold up well in wet and humid climates in North America as well.
A third option is using synthetic or composite wood, which are often made of recycled plastic and wood fibers, depending on the type you select. This material often has a hard PVC-like surface, making it very easy to maintain. Unlike natural woods, composites don't require sealants or heavy-duty washing. 
The Pros and Cons of Each Deck Material
The cost, maintenance, and look of each material is what you'll most likely weigh before deciding which is best for your deck. Woods like cedar tend to be less expensive than composites, but depending on how you look at it, composite materials are more eco-friendly because they use recycled materials (though, wood is also a renewable resource that supports our environment in other, helpful ways). Exotic hardwoods are more expensive than cedar but many prefer the look of them, especially as they age. Though, aging cedar is also beautiful as it turns into a silvery-grey — and it's natural scent perks up on particularly damp and humid days.
On the other hand, composites may come with a 20-year or lifetime guarantee, but depending on the product and color, can look too plasticky. Additionally, because composite cannot be sanded and re-stained like natural wood, the color you select will be the color of your deck for decades to come. However, its lifetime finish stays cooler in hot summer months than a porous wood that absorbs all the sun's rays — and less porous means less cleaning.
Ultimately, each material comes with its own benefits and considerations. We recommend sampling the different materials so you can get the look and feel of each. But the most important thing is to know what you're willing to put into your deck project upfront and in the long term is crucial, because all of these building materials will give you at least 20 years of outdoor enjoyment. If you're ready to explore what materials will work best for your deck, the team at Forest Plywood is here to help – contact us today!