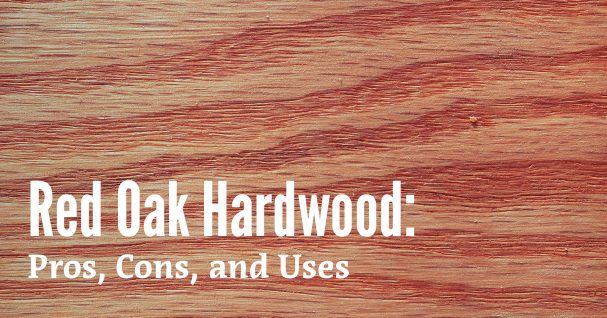 Ranging from light brown to deep pink- or red-brown, red oak is one of the most dominant species in American hardwood forests. Red oak is used for a variety of purposes, which has made it one of the most widely-used types of hardwood on the market. Read on to learn more about red oak and if it's right for your next project.  
Pros of Red Oak 
Red oak hardwood is one of the most popular options for flooring ;and other domestic projects. Don't let the sophisticated look fool you – this hardwood choice is one of the most stable options on the market. In fact, red oak has become an industry benchmark due to the many advantages it offers:
Stains well: red oak is easy to finish and stain without blotching
Easy to sand: red oak is easy to sand as long as you use a pad or block
Distinctive look: the wide grain pattern is unique and natural. With a range of shades, you can customize the look of your finished project
Incredibly workable: Red oak rates at 1,290 on the Janka scale, striking the perfect balance between hardness and workability 
Cons of Red Oak 
Red oak is a medium Janka hardwood, which means that while it won't scratch easily, it can dent more easily than harder varieties. If you're looking for a durable wood that can stand up to heavy use, you should consider a harder option, like white oak or hickory. Unlike its white oak counterpart, which has plugged pores, red oak isn't an appropriate choice for any projects that will come in close contact with water. If water penetrates the surface, it results in an unsightly black stain. 
When To Use Red Oak Hardwood
Thanks to its beauty, workability, and stability, red oak can be used in a variety of settings. It's the most popular choice for hardwood flooring in the US, which has made it the standard hardwood flooring option. Red oak is used for furniture, doors, architectural joinery, mouldings, veneers, and cabinets. This wood is also used for industrial purposes and can be found in agricultural implements, posts, and railway ties.    
If you want to use red oak hardwood in your next woodworking, industrial, or flooring project, contact Forest Plywood. Our experienced staff can not only help you select the perfect hardwood option for your needs, but we also offer on-site custom milling to simplify your next project. Contact us today or call 800.936.7378 to speak with one of our knowledgeable team members.