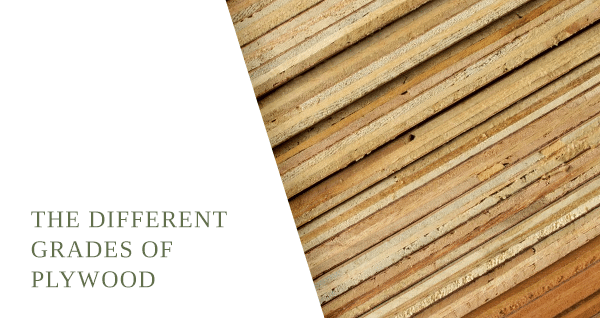 If you're searching for the right type of plywood for your project, you've probably seen that there are several different grades to choose from. The variety can be daunting, and the labels can make the process even more confusing.
What are the grades of plywood? There are four main types of plywood veneer grades. These are known as A, B, C, and D. Within each sheet of plywood, there are two grades present. This compound is written out as AB, AC, and so on. The first letter is what's known as the face veneer grade, and the second letter represents the back veneer. If the plywood compound has an X at the end, it signifies that it is "exposure" plywood and can be exposed to a bit of moisture. The letters progress like grades in school — A is the highest grade, D is the lowest.
A-grade plywood: A-grade plywood is the highest quality and is the most expensive, as most sheets will be free of flaws. If you're looking for plywood that is smooth and can be easily painted, this is a great option.
B-grade plywood: Another option for an almost perfect sheet of plywood is B-grade. B-grade plywood has a mostly smooth surface and a solid foundation. Some repairs might have been made on this plywood, but B-grade would have only minor flaws.
C-grade plywood: A little lower down in quality, C-grade plywood has some knots throughout its sheets, up to 1.5 inches in diameter.
D-grade plywood: D-grade plywood sheets are the most inexpensive. They haven't been repaired, and the flaws can be a little larger and more noticeable. This grade of plywood can feature knots up to 2.5 inches.
Difference Between Construction and Project Plywood
Construction plywood is a common material for building garages and roofing houses, and it's also used for household projects like building cabinets. Here are some labels that differentiate the two:
CDX: CDX-grade plywood is an inexpensive plywood material, which is made of the two lowest grades, C and D. The X signifies that this material can withstand some exposure to moisture. CDX is oftentimes used for creating work tables and storage units.
Sanded Pine: Sanded pine is a versatile plywood material. It has a clean and smooth surface, and it holds nails and screws well. This type of plywood is commonly used to build cabinets and boxes.
Baltic Birch: Another versatile plywood material is Baltic birch. This is a more expensive option, as it has clean edges and has a nice finish.
Indoor and Outdoor Plywood Options
Even though most plywood manufacturers will be transparent about whether or not a material could withstand outdoor elements, it's useful to have a brief understanding of each type of plywood's specifications.
Plywood for Indoor Uses
Sanded plywood: If you're looking for a quality plywood material that can be used indoors, pine veneer is a good option. This material could be labeled Sanded Pine BC or Sandeply. It's an inexpensive material that used for projects like building cabinets or shop furniture.
Oriented Strand Board: Also known as wafer board, Oriented strand board has a flakey look, as it's made from wood chips. This type of plywood sheet has a patchwork design with a variance of shapes, sizes, and colors of wood chips glued together.
Plywood for Outdoor Uses
Although some grades of plywood can withstand snow, rain, and other outdoor elements, there's no guarantee that plywood can hold up for a certain amount of time. This will depend on moisture, heat, and other outdoor factors.
Pressure-treated plywood: If you're looking for a plywood that's made to reject mold and mildew, pressure-treated plywood has been saturated with chemicals to keep it safe. This material could last for years without paint or any type of protective coating.
CDX sheathing: This type of plywood material is made from the two lowest grades of plywood, C and D. It's an inexpensive material, and it shouldn't be left uncovered. It's typically covered with bricks or shingles for roofs, storage bins, or garages.
At Forest Plywood, we have a large selection of plywood options so you can find the right plywood grade for your next project.