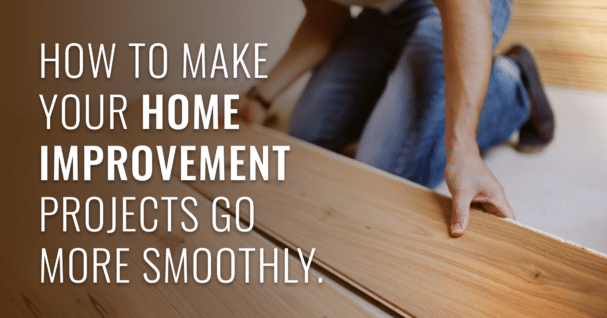 Have you found yourself dreaming of a new home project and researching websites for home improvement project inspiration? Been wandering the paint and primer aisle of your local hardware store? Then you're not alone: since the start of the pandemic, many are staying closer to home, and millions of Americans are strapping on their tool belts and getting down to work on home renovations. In fact, a recent survey showed that 3 out of 4 homeowners have completed a major home improvement project since the pandemic started. And while tackling a home improvement project might feel daunting, if you've got the right tools and resources – and right expectations – you should feel confident in your work. In this blog, we've assembled some tips for helping your home improvement project go more smoothly in this unusually busy time for home projects.
What's Driving Interest In Home Improvement?
We've all been spending a lot of time at home lately. From setting up home office spaces to home classrooms for children, many home renovations projects are geared toward making houses more functional spaces during the era of social distancing. With more of us eating and cooking at home, kitchens have seen a major uptick in renovations and installations. And because many families are saving money from not travelling or eating out, they're reinvesting that money in their homes.
Increased Home Equity
Additionally, many homeowners are taking advantage of increased home equity. As home prices continue to rise and demand for houses increases, homeowners are seeing a huge increase in home equity – and they're using that to fund improvement projects. Many are deciding to invest in what they have rather than make a move right now.
How To Make Your Project Go Smoothly
With the high demand in the housing market and huge increases in equity, it's no surprise that homeowners are turning to home improvement projects. But because so many people are doing renovations right now, it might feel challenging to get the resources or information you need to complete your project. By managing your expectations and being a bit resourceful and creative, you can help your project go a bit more smoothly.
Manage Expectations
You've probably seen stories about global supply chain shortages impacting lumber and building materials. And it's true: shortages are causing many homeowners to face issues when completing their projects. But by managing your expectations and being a bit creative with your approach to your project, you can help your project go more smoothly. For example:
Appliances: If you're

renovating your kitchen

, be flexible with your choice of appliance models. Have several different possibilities for a new oven, for instance, instead of fixating on just one model that might be out of stock indefinitely.

 

Doors: Don't knock secondhand! You might check out an architectural salvage store, or touch base with friends or family who are also doing home improvement projects – you never know what they might be getting rid of.
Furniture: This is a great time to poke around vintage shops or local artisan companies, or even stores like Re-Store that sell used furniture. With a little time, paint, and creativity, you can have a used piece of furniture looking like new in your home.

 
Now is the time to get those creative juices flowing! Home improvement projects are all about resourcefulness, and if you approach your project with creativity, you'll be able to manage your expectations about the finished product and feel proud of your work.
Where We're Headed
It looks like the home improvement trend isn't set to cool off anytime soon. And even though that's a daunting prospect if you're concerned about supply chain shortages, a hot improvement market isn't necessarily a bad thing! Resources, guides, and information about home renovation projects are readily available right now. And with a hot housing market, any home improvement projects you do now will definitely pay off in the long run. 
At Forest Plywood, we're here to help with specialty lumber and plywood for your building and home improvement project needs. Our lumber inventory covers a broad range of materials, and our experienced team is here to help you plan and complete your project or to help you find the products you are looking for.