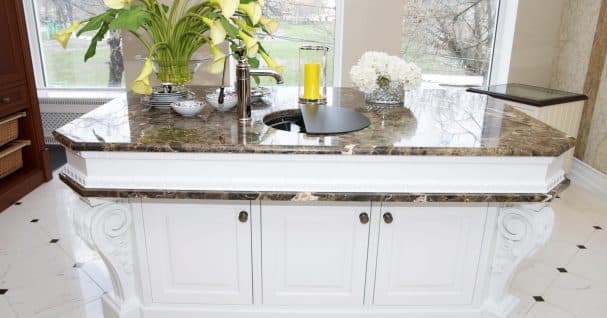 Historically, consumers might have considered laminate "low-end," not only in terms of price, but for look as well. But over the years, laminate has improved dramatically in finishes and durability, and can create a high-end kitchen design.
Pionite is a versatile plastic laminate made up of layers of treated paper that forms a extremely hard-wearing and impact resistant surface. With more than 230 colors, wood grains, stone and abstract designs, this laminate, is an ideal surface for kitchen countertops, tables and cabinets.
One the least expensive surface materials, there are a variety of finishes. Matte and textured finishes are less likely to show eventual wear and tear over those that are smoother and more polished. Laminate is very stain- and impact-resistant, easy to maintain and suitable for vertical, horizontal and postforming applications. Outside the kitchen, it can be used on vanities, interior doors, contract furniture and retail store fixtures.
Panolam Surface Systems, the makers of Pionite, use their own resins and an eco-conscious manufacturing process. The laminates are easy to clean, without the need of harsh chemicals, and Pionite distribution centers are located throughout the country, reducing the use of fossil fuels in delivery.
Pionite's standard laminate comes in three grades:
G48 General Purpose Grade
Nominal Thickness .048"/1.2 mm (NEMA HGS)
Most often used in horizontal environments that necessitate a high impact resistance, and a durable, decorative surface.
F39 Postforming Grade
Nominal Thickness .039"/1.0 mm (NEMA HGP)
Generally used for  countertops and other horizontal surfaces where the laminate is heated and rolled over the substrate edge to eliminate seams.
F28 Postforming Grade
Nominal Thickness .028"/.07 mm (NEMA VGP)
Designed for surfaces where impact resistance is less critical.