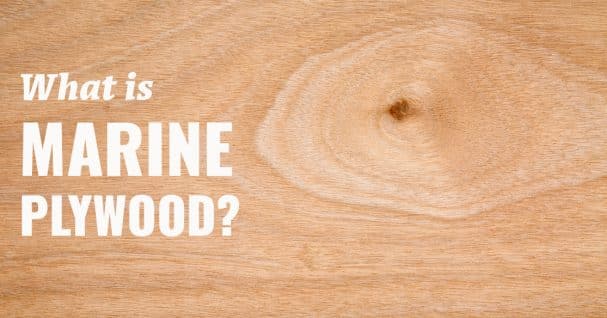 Marine-grade plywood is a hardwood panel capable of standing up to rain, snow, and moisture on a regular basis. Learn what marine plywood is and what projects it is best for.
When it comes to outdoor furniture, decks, porches, boats, and other structures, marine grade plywood is known for its strength and durability, and is designed to stand up to the elements over time.
What is Marine Grade Plywood?
Marine-grade plywood (also called marine plywood) is a high-quality hardwood panel that is capable of standing up to rain, snow, and moisture on a regular basis.
Unique characteristics of marine plywood
Unlike traditional pressure-treated lumber, marine grade plywood is not chemically treated to increase its resistance to rot, mold, and moisture. Instead, it's composed of many thin layers bound together with waterproof glue. These layers are cross-laminated for added strength, and the panel is bonded under heat and pressure.
Read More: What are the Best Uses for Marine Grade Plywood?
Types of Marine Grade Plywood
Marine grade plywood comes in different sizes, thicknesses, and grades. The standard for marine plywood is British Standard 1088 and is used primarily for marine craft. Aquatek is a lower-cost alternative to the higher-spec BS1088. Joubert Okoume is the highest quality marine plywood available today and is certified by Lloyd's of London to be manufactured to the British Standard 1088. 
What Are the Advantages of Marine Grade Plywood?
Unlike other types of plywood, marine plywood is bound with a waterproof glue that won't fail when exposed to water, high humidity, and boiling temperatures, protecting the plywood from delamination./li>
The thin layers make marine grade plywood easy to cut and sand clean, and the higher grades are strong and lightweight, with limited defects. According to The Engineered Wood Association, plies may have knots but no knotholes (voids that could trap water, leading to rot).
Unlike cedar or redwood, marine grade plywood is not naturally resistant to rot and decay, and may require a protective finish. However, with the right sealant, marine grade plywood can last for many years to come.
Still have questions on selecting marine plywood for your project?
Contact us today or call 800.936.7378 to speak with one of our team members.