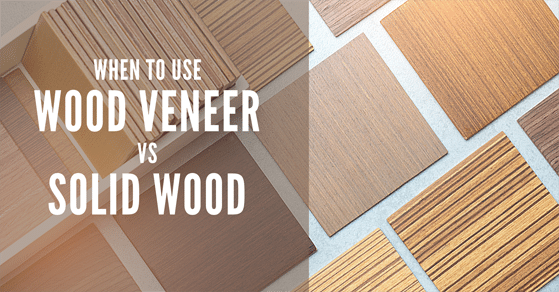 From a distance, it may be hard to tell the difference between wood veneer and solid wood – until you look at the price tag. While wood veneers are affordably priced, some solid wood furniture can cost quite the pretty penny. If you're wondering when you should opt for veneers and when you should splurge for solid wood, read on to learn the advantages, disadvantages, and best uses of both materials. 
Wood Veneers 
How They're Made 
Wood veneers are made by attaching a thin slice of natural wood onto a panel of fiberboard or particleboard. It's important to note that veneers use a piece of real wood, not manufactured material made to look like wood. 
Advantages of Wood Veneers 
The way wood veneers are made gives them many advantages over traditional solid wood. Since just a thin slice of wood is used, veneers maximize the use of a single log, making them more environmentally-friendly and affordable. This also makes veneers less prone to warping and splitting.
Veneers also offer more choices, since some types of wood are too expensive or unstable to be used in their solid form. With veneers, shoppers can choose rare or exoctic wood without breaking the bank or endangering the species. Finally, veneers are much lighter than traditional wood, making them easier to move and offering a variety of designs and arrangements that would fail in a solid wood design.  
Disadvantages to Wood Veneers 
Wood veneers are not as heavy as natural wood, which can be off putting to some buyers. Additionally, since wood veneers are not coated with surface polish, it's easier for liquids to be absorbed into the wood layer and cause damage. If this happens, it can be difficult and costly to repair.  
When to Use Wood Veneers 
Veneers are a great choice for budget-conscious shoppers or those committed to making environmentally-conscious decisions. Many first-time homebuyers choose veneers to achieve a high-end look at a relatively low cost, and even seasoned homeowners choose veneers for many movable pieces like cabinets or drawers.  
Solid Wood 
How They're Made 
As the name suggests, solid wood is made from completely natural wood that's sanded and finished into a final piece.  
Advantages of Solid Wood 
Solid wood is relatively easy to repair because most damage can be fixed though sanding. This also makes it easier to restore solid wood, so even the most antique pieces can be made beautiful again. Finally, this material is very durable, so solid wood pieces can often be passed down from generation to generation.  
Disadvantages of Solid Wood
Changes in humidity or atmospheric pressure can cause natural wood to warp, crack, or expand if not treated properly. While most pieces are treated to prevent this from happening, buyers should be prepared to maintain their wood furniture using simple techniques like keeping it out of direct sunlight for long periods of time. Additionally, since wood is more expensive, the price can be prohibitive to some buyers.  
When to Use Solid Wood
If you're looking for long-lasting furniture, solid wood is the way to go. Its durability and all-natural aesthetic make it a great addition to any home.  Buying solid wood is an investment, but buyers can rest assured their piece will retain its beauty for long after the initial purchase.  
Need help choosing the right material for your next project? Contact the experts at Forest Plywood!