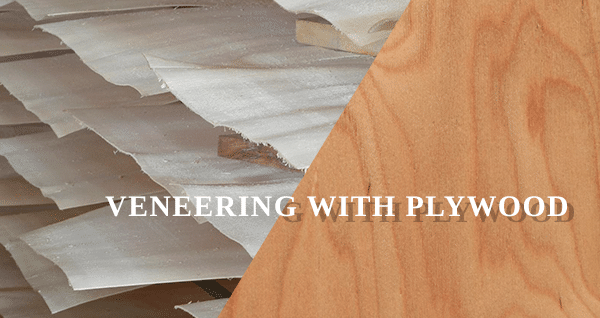 It is possible to veneer plywood, but knowing the difference between plywood and veneer can help you to turn a good project into a great one. Plywood is a type of manufactured wood panel that's made by gluing veneers together. The layers are glued with the wood grain of the plies at right angles to each other. Veneers are the thin slices of wood that can be peeled off and they're usually less than ⅛ inch thick.
When veneers are glued together they form a composite material. Having the wood grain at right angles, also known as cross-graining, helps prevent splitting. It also reduces the chances of the wood expanding and shrinking. Plywood is usually made of three or more layers of veneer.
Advantages of Veneering Plywood
Compared to other materials, plywood is lighter and more sag resistant. It also has the capability to grip fasteners better and doesn't require a lot of surface preparation prior to applying the glue. The one problem is that poor quality plywood can be found in most places nowadays, which causes the face veneer to peel off very easily.
Check your plywood before you start veneering to make sure the face isn't loose. If the veneer panel comes off easily, then it's a waste of time and money to apply a high-quality veneer over it.
Tips for Veneering with Plywood
There's minimal surface preparation needed, but we recommend the following:
Clean the surface with tack cloth
Follow any instructions that come with the contact cement if you're using that method
For the application of veneer on plywood, we recommend to:
Use a vacuum, cold or hot press and white or yellow glue. The white glue needs to have a low filler content to avoid issues with the products. If you don't have access to a press, use a contact cement that has high amounts of solids. Always follow the adhesive manufacturer's instructions.
Not use water-base finishes for finishing veneer.
Lay out the veneer for preparation and always cover it with plastic.
Wood veneers need the adhesive for bonding strength so be sure to veneer with a second coat.
Allow drying time between adhesive coats so that the glue is completely dry before you apply the veneer. If you don't, you're creating the possibility of a weak bond that can lead to bubbles.
Use a pinch roller when using contact cement to press the veneer into the substrate. If you don't have a pinch roller, you can use a flexible wood scraper tool instead.
Allow the adhesive to dry for 24 hours before applying any finish. The finish should be applied in light coats
Veneering a Plywood Edge
You can cover raw plywood edges with a roll of wood veneer edge banding and some simple tools. This helps make the plywood nearly indistinguishable from solid wood. Iron-on edge banding is typically wood veneer that has adhesive on the back. By running over it with a household iron, you can heat the adhesive, let it cool, and then trim the edges.