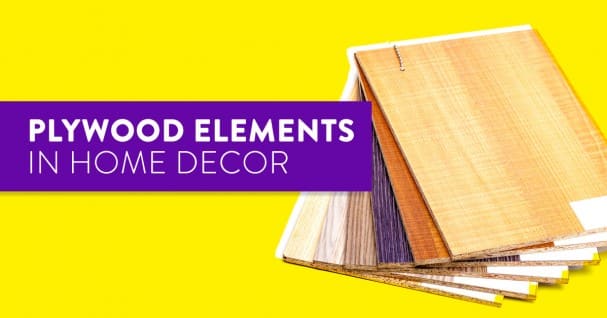 From handcrafted furniture to fine art, plywood makes a home's interior decoration stand out.
Plywood works well covering windows in a storm, and it shows up in all sorts of construction jobs. However, relegating it solely to construction and other "rough" jobs means missing out on a great material perfect for creating a one-of-a-kind home décor.
Built-in Furniture and Fixtures
Built-in furniture adds appeal to just about any room. In smaller spaces, it gives the illusion of more space while providing great storage. In larger rooms, built-ins lend warmth and coziness. Creating a built-in using plywood requires some woodworking skills, but it's possible to achieve with a little determination and skill. Start small with a corner cabinet or butlers' pantry, which both add appeal and provide practical storage space.
Consider constructing floating plywood shelves, which have no visible brackets or sides, lending them their "floating" quality. In reality, these shelves get their support from a simple yet sturdy lumber frame hidden by an outer plywood casing. Mounted to the wall using wood cleats attached to wall studs, floating shelves lend an air of sophistication and finish to a room.
Plywood's strength and durability are why many quality kitchen cabinets feature plywood construction. Kitchen cabinets receive a lot of wear and tear. They opened and closed, sometimes none too gently repeatedly throughout the day. They are exposed to moisture, grease, heat, and more. Plywood stands up to it all, which is why it works so well for built-in furniture throughout the home.
Plywood Furniture
High quality plywood veneers are well suited to fine furniture construction. Outer plywood veneers have different grades, and top rated sheets have outer veneers, rotary cut or sliced, that come from high quality lumber from many different tree species. With proper handling, stained high-grade plywood makes beautiful furniture. Many pieces of furniture require only a single 4' x 8' sheet of plywood.
Tables make perfect use of the sheer size of plywood panels. Tabletops made from lumber consist of several glued sections. Plywood tabletops have one continuous line of wood from end to end. Plywood need not be limited to use in tabletops, however. It also makes great table legs that feature thin, clean lines while also providing strength and stability.
Plywood is the material of choice in many cutting edge, modern, and uniquely designed seats. Some involve bending plywood with steam to create curved seating surfaces; others employ cutting plywood sheets into innovative shapes. Plywood's strength and durability make creative seating styles possible.
Furniture made from plywood may feature "stripes." Plywood consists of multiple layers of different woods. While the outer layers of veneer may consist of beautiful wood grain, the inner layers usually vary in color, creating the "stripes." Dealing with edge striping is a matter of personal preference:
Covering the Edges: If a traditional look is required, or if you feel ashamed of using plywood in your furnishings, cover the edges up. Two of the more simple methods are:

Edge banding works well for curved edges as well as straight, and attaches using a heat gun and glue.
Decorative molding, applied with brads, covers plywood edges and offers the opportunity to match the decorative edge to other pieces of furniture in the room.

Embracing the unique "edgy" look: With careful sanding and staining, the layered look of plywood lends a beautiful accent to many pieces of furniture. In fact, one type of plywood, Baltic birch, is sought out for the beauty of its layered edges. With even laminate layers created solely from birch, this plywood is beautiful in addition to having superior strength.
Artful Plywood Applications
Just as people usually define "fine art" with an "I'll know it when I see it" approach, artists find different mediums for artistic expression. Some painters use plywood as their canvas, or for uniquely pieced multi-depth wall hangings. Others create plywood sculptures, using the unique look of veneer layers as an added accent in their works. To paraphrase one such artist, using plywood in sculpture transforms a "rather ordinary material" into "an exotic visual experience."
Don't Dis Plywood
Many believe only top quality woods belong in fine furniture. However, beyond price savings, plywood with a high quality veneer offers other advantages. Hardwood veneer plywood is stronger than solid pine or other soft woods. It retains its shape better than many types of wood. Most importantly, it can be quite beautiful.