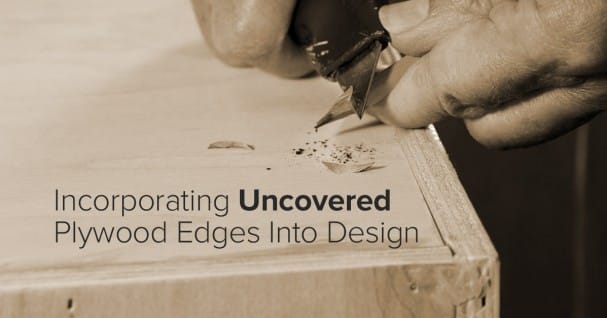 The rough edges of plywood that show off the wood's composite composition are often covered up with veneer and edging to produce a neat, polished, "finished" look. As industrial, rustic and DIY aesthetics sweep the home design scene, though, leaving the edges of plywood unfinished or even featuring this visually interesting characteristic in a more prominent way is becoming popular.
The nature of how plywood is made is what gives it the visually appealing quality that is currently attracting so many designers and furniture makers. Created by compressing and bonding multiple thin layers of wood together, the edges of plywood sheets end up having a stacked line pattern. During manufacturing, the alternating layers used to create the plywood sheet are typically rotated to improve the strength of the plywood. Because of this functional practice, it's not uncommon for alternating layers within a plywood sheet to be different colors. These alternating bands of color make the exposed plywood edges even more appealing in design.
You now see plywood edges left exposed in furniture (particularly desks and tables) and in kitchen and bathroom cabinetry of homes that embrace modern design. Most of the time these touches are subtle – the front face of a cabinet frame or the edges of a table or desk. In this application, the tightly stacked lines add a bit of visual difference and interest without standing out as too aggressive or odd.
If you want to make shelving or furniture at home that showcases unfinished plywood edges, be sure to start with plywood that has distinct lines – hardwood plywood is a good option. This will ensure your "raw" look appears neat and composed while still adding character. Avoid MDF as this type of board is made differently and has edges that look like compressed sawdust, rather than the distinct lines of plywood. When you're shopping for your wood, pay more attention to the edges of the sheets rather than their faces. A few blemishes on the face of the plywood will matter less for your needs. Instead, you'll want to find boards with distinct cross sections that match the look you're going for.
Working with exposed plywood edges gives you a range of options. Opting to leave the front facing edges of shelving or a desk uncovered is a good way to add a little pop of character to your piece. For a table, desk, bar top or bookcase that makes a bolder statement, cut sheets of plywood into narrow strips and glue them together (with the edges up) using a strong construction-grade wood glue – a process used to make this desk. This approach means the entire surface area of your new custom piece looks like the exposed edges of plywood, creating a beautiful pattern that mimics natural wood grain.
Just because exposed plywood edges are in fashion, however, doesn't mean you should leave them totally raw and untouched. By nature, the edges of plywood are rough and they should be treated to protect against chipping or snagging on clothing. Start by sanding the edges until they're smooth. You can also add a rounded corner edge during this process. Once the surface is thoroughly sanded down, seal all exposed edges with a polyurethane sealer. If you want to add more character or color to the plywood edges, apply a stain or light wash of your choice before sealing.
The exposed plywood edge trend is great for DIY furniture builders. The material is cheaper than higher-quality wood and easily accessible. With the right care and finishes, it's easy to make a new piece for your home that looks like it just arrived from a top home design store.