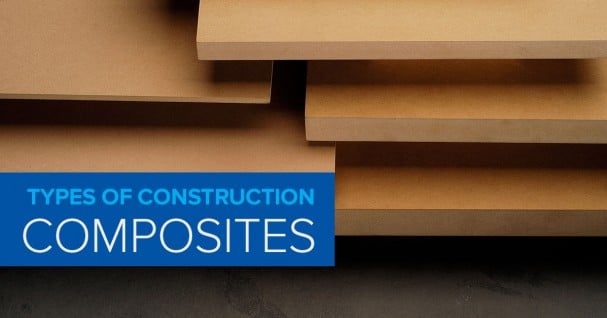 Hardwood and even cheaper plywood isn't necessarily the best material for every project. Depending on the application, a composite material may be a more affordable and better suited option. There are also some uses where composites are the only acceptable solution.
Just as there are many hardwoods, builders and DIY-ers have their choice of composite material. Understanding how each composite is made, their main properties and the best uses for each will help you select the right composite for your next build or project.
What is Composite?
Composite is so named because it's not one material, but rather several materials bound together to create a board. It's often a man-made, engineered product that includes some natural material, though the exact make-up depends on the type of composite. Composites also differ from other woods because of their uniform, grain-less surface appearance.
Composite has many "utility" uses where it will be covered with a more finished product for a cleaner appearance. It's also commonly used to workshop spaces where appearance is not important but affordability and durability are.
Types of Composite
Almost everyone has heard of the most common types of composite materials, but may not have realized they belong to the "composite" class. Common forms of composite include:
Particle board
MDF
Pegboard and hardboard
Soundboard
Each composite has a unique make-up and different distinct uses.
Particle Board
Particle board is engineered by pressing wood chips, shavings and other wood fibers together and binding the board with a resin. It results in a flat, stable surface similar to but cheaper and lower quality than plywood.
Particle board is commonly used in cabinetry and furniture that isn't solid wood. It's easy to cover, which makes it ideal as the base of construction that is going to be covered later with a higher end material or finished product, such as laminates and veneers. The compressed nature of the material make it naturally sound absorbent, which also makes it great for speaker construction.
MDF
MDF stands for medium density fiberboard. It's made the same way as particle board, by pressing wood fibers together and binding it with resin, but MDF uses smaller fibers that are packed more densely to create a stronger, smoother product. MDF also has the advantage of having machinable edges for clean finishing.
Uses for MDF include cabinets, shelving, decorative paneling and molding. The smooth, dense surface of MDF means it can be primed and painted. That feature combined with the fact that MDF can be carefully machined make it a good stand-in for solid wood on some projects, such as crown molding if you're willing to machine the molding design yourself.
Though particle board and MDF are often used for the same types of projects, for applications requiring more strength MDF is a better solution.
MDF is also available in a variety of treatments for additional benefits and uses. Forest Plywood supplies the following MDF options:
Bendy – Ideal for creating smooth curved surfaces from a strong and solid material
Ultralite – Two-thirds the weight of regular MDF for more delicate projects and applications
Fire Retardant – This Class 1, UL Certified panel type can be safely used in walls, doors, counters, furniture and other applications
Moisture Resistant – This form of MDF is well suited for interior applications where moisture is routinely present, such as bathrooms
Extira – An additional moisture resistant treatment on this type of MDF allows it to be painted and used for exterior applications
Beadboard – This decorative finish resembles a stylish tongue and groove pattern but is easier to use and ready to paint
Slatwall – An alternative to hook and peg pegboard, this style of MDF comes pre-manufactured with slotted groves for storage, particularly for retail merchandise
Hardboard and Pegboard
Hardboard is made by compressing exploded wood fibers with a wet process to create an extremely smooth, dense board. Hardboard is stronger and harder than MDF. Tempered hardboard undergoes an additional hardening process using linseed oil and baking.
One of the most common applications of hardboard is in the production of pegboard, commonly used in workshops and garages for easy hanging storage. Pegboard is tempered hardboard with a grid of uniform holes drilled out to hold pegs and hooks.
Outside of pegboard, traditional hardboard is used whenever a strong, hard surface that will be covered is needed. This makes it ideal as the base for a furniture frame, subflooring and even as a solid canvas stretcher for painters.
Soundboard
Soundboard is made from homogenous cellulose fiber. This composite does exactly what it sounds like – it's most common application is as sound insulation. It's often installed in construction projects underneath drywall to dampen sound from traveling through walls. For sound dampening properties, a traditional wood material will not suffice making this composite indispensable.
Soundboard is not intended to be an outward facing material.