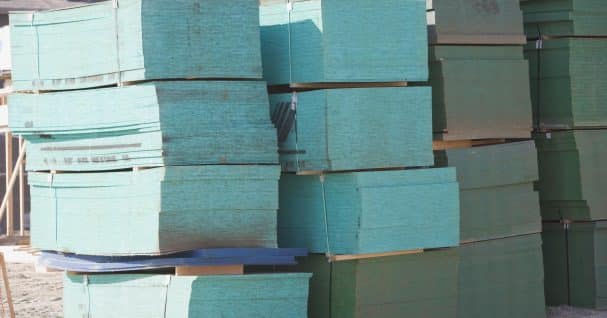 Medium density fiberboard, or MDF, and particle board are both pressed wood products often used for cabinets, shelving, furniture and paneling. The two materials share similarities in terms of price, density, strength and durability.
MDF, made from fine wood fiber, is primarily used in cabinetry, shelving, furniture and molding. It's easier to mill than particle board, is less prone to tearing and chipping, and works well for projects that utilize complicated and elaborate shapes. MDF may be finished with veneer or laminate and, unlike particle board, accepts paint without undue absorption or undesirable warping. An MDF-drawback is that it will deteriorate quickly if exposed to water and damp conditions.
Not to be used as a finish, MDF should always be trimmed out with solid wood. Because it is so dense, it is very heavy, so not ideal for large, hung cabinets.
Also a waste-wood product, particleboard is less expensive than MDF and made by hot-pressing sawdust (vs fiber) with resin adhesives. It's a fairly easy material to work with in terms of cutting and milling, can be used with all power tools, and is primarily used in cheaper furniture pieces, cabinets, doors, flooring substrates and underlays, countertop substrates and temporary partitioning. Particleboard tends to be used on lower-end projects that don't require a sophisticated finish. A veneer with a thin laminate will make it appear more higher end.
While not as strong as MDF, particleboard is denser and stronger than wood, and is best used flat, as bending or molding will cause it to snap or tear. It does not warp due to temperature fluctuations and other changes in the environment, but will expand when exposed to moisture. While it should never be used outdoors, it can be used as foundational material in bathrooms and kitchens if covered with moisture-proof vinyl, if all board pieces are sealed with edge banding or if the bottom edges of cabinet boxes are sealed before installation.
In most cases, items made from MDF are considered to be superior in quality and strength compared to particle board, though particleboard is a less expensive option for projects that don't require the elegance.